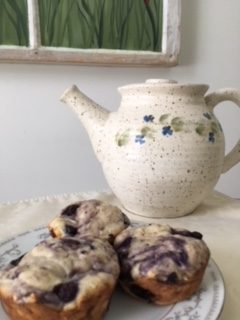 Blueberry Coconut Muffins
If you like coconut and bit of a sour taste in your muffin, you'll love these!
You know that you've made a good batch of muffins when a dozen of them gets devoured by 3 teenage boys, even when the muffins are short on sugar. I'm not sure why I would waste my time only making one batch; it really makes more sense to just double all the ingredients, but when it's a new recipe, you want to make sure they go over well with the clan.
And these definitely did!
You'll note as with most my baking I usually don't mix wet and dry ingredients separately. To keep things simple and reduce the amount of dishes to wash I just stir everything together in one big bowl and it almost always works out!
Blueberry Coconut Muffins
Ingredients:
1 1/2 cups unbleached white flour
1/4 cup brown sugar
1/2 cup sweetened shredded coconut
½ tsp salt
2 teaspoons baking powder
1/4 cup coconut oil, melted
1 large egg
3/4 cup milk soured with vinegar (2 Tbsp Vinegar to bring milk up to 3/4 cup)
1 teaspoon vanilla extract
1 cup blueberries (I use frozen)
Instructions:
Preheat oven to 350 degrees. Grease muffin pan or line pan with muffin liners.
In a large bowl, stir together flour, sugar, coconut, salt and baking powder. Add in melted coconut oil, egg, soured milk or buttermilk, and vanilla, and mix together. Stir in blueberries.
Spoon the batter into prepared muffin cups. Bake for 20 minutes, or until a toothpick inserted into the center of a muffin comes out clean. They won't be brown on the top, but they'll be brown around the edges. Transfer muffins to a cooling rack and cool.
Hope you enjoy!